Northeast High School
Class of 1964
In Memory
Connie Tiedeman (Whitmire)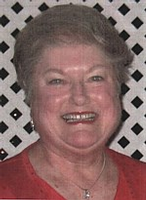 Connie Maxine Whitmire, 71 of Ruskin, FL died October 31, 2018
Connie was born the only child of Herbert A Tiedman and Betty Bishop Tiedman on November 17, 1946 in Millen, Georgia. Her father was an Auto Mechanic who was born in Para, Brazil S.A. and her mother was a housewife and was born in Summertown, GA. He father died when she was 6 years old and her mother remarried Bryan Brown and moved to St. Petersburg, FL were she was raised and graduated from Northeast High School on 16th Street North in 1964.
She attended Brunswick Junior College in Brunswick, Georgia and was briefly married to Sydney Maynard, but they were divorced in 1969.
She eventually, met the love of her life 'Whittie Boy' and married Robert Jefferson Whitmire on April 7th, 1980. Soon after their marriage, she moved back to St. Petersburg, FL with Whit and he opened Spur Convenience Store and Gas Station on 4th Street and 28th Avenue North. He named it Whit's Spur and it was known for having the best tomatoes in town. Connie accepted a job at Florida Power, now known as Duke Engery in 1981. She was hired as a secretary and worked her way up to report directly to the President of Florida Power Corporation, which was a position she held for many years.
Whit eventually sold Whit's Spur and they moved across the Big Bridge to Ruskin. Whit had a passion for golf, played frequently and was very knowledgeable about the rules and professional players. Whit taught Connie how to play and she became very good at the game. Their new home was on the 9th hole of the Golf Club at Cypress Creek and it was perfect for both of them. They were members of the Golf Club for 13 years and played golf regularly. Whit was on the waiting list for season passes to the Masters in Augusta, GA for 27 years and finally obtained passes. Connie and Whit attended the tournament for many years and were both very active golfers with many friends and groups that enjoyed the Golf Life!
During the early 90's Connie discovered Pampered Chef and signed up to be a representative. She had a passion for cooking and loved doing the presentations and hosting shows in friend's homes and sharing her love of their products and their multiple uses.
Connie left Florida Power in 1997 and then started working at Old Republic Title Company, located in downtown Tampa as an Underwriting/Closing Paralegal. She worked there from 1998 until she retired in July of 2016.
Connie was the primary care taker of her mother's 2 sisters for many years, Aunt Hazel St. Clair and Aunt Sue Bishop. She took care of them until Sue's death in 2013 and Hazel's death in 2015.
Connie had a tremendous love for animals - especially Cats! She often talked about her dogs, Zebulon and then Maggie, a St. Bernard & Boxer mix, who passed away last year. Her cats Wilma and Fred lived long lives and then she adopted Tom, Jerry and Lucy. She was an avid supporter of the Humane Society and many other Pet Rescue organizations.
Connie was a wonderful, loving, caring friend to so many that she met her through her work, golfing and especially Pampered Chef. It seems that she had girlfriends scattered all over the Tampa Bay and St. Petersburg areas. She loved to meet up with friends for lunch, movies, shows and get-togethers. We all loved her dearly and she will be greatly missed by all of us